Product Categories
Rod ends
Clevises Folding spring bolts Bolts
Ball joints
Rod ends for hydraulic components
Radial spherical plain bearings
Radial internal clearance of spherical plain bearings
Tolerances
Interchange table

| | | |
| --- | --- | --- |
| Products | | Home > Products |

Rod ends SIZJ , SIZJ..S Maintenance required
杆端关节轴承
Rod ends SIZJ , SIZJ..S
Maintenance required
-------------------------------------------------------------------------------------------------------------------------------



.

-杆端体带有左旋或右旋的内螺纹。
-杆端体挤压成形。
-杆端体表面镀锌。
-英制系列。
-Rod body with right or left-hand female thread.
-Rod body pressed around inner ring.
-Surface of rod body zinc plated.
-In inch dimension series.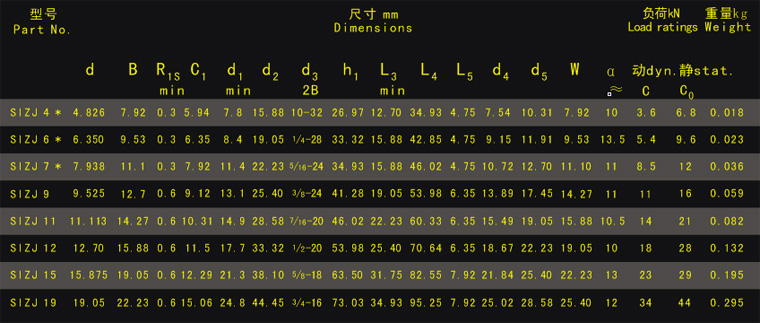 -若是左旋螺纹,轴承型号需加" L ",例如:SILZJ 15。
-带*的型号均不配油孔或油杯。其余若需配油杯,请用SIZJ..S的代号。
-For left-hand thread, please add surffix " L ", e.g. SILZJ 15.
-Lubricating hole or grease nipple isn't available for the sizes marked " * ".
When a grease nipple is required for other sizes, please use the sign SIZJ..S.
[ Home Previous Next End ] Page order:1/1Page 12Article Data/Page Goto: